We're excited to welcome Jill Bamburg as our keynote speaker for 2012, a leader in the Local Living Economy movement. Known widely in environmental circles, Jill is one of the co-founders of the Bainbridge Graduate Institute. Prior to BGI, Jill worked in adult education (Antioch University/Seattle), high tech marketing (Aldus Corporation), and community and environmental journalism (High Country News, Jackson Hole News and Guide). She is the author of "Getting to Scale: Growing Your Business without Selling Out." Jill also serves as vice-chair of the board of the Positive Futures Network, publishers of YES! Magazine.
In her own words: "It's an honor to be able to bring together two of my favorite acronyms — LLE (local living economies) and LGBTQ (duh) — in a single evening. Kudos to OUT4S for forging this important link and making sure that everyone has fun in the process!" – Jill Bamburg
It will be a night to remember, and we can't wait to see you there.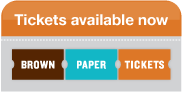 Tickets now on sale! $65 using code "local2012" as supplies last, and then $75 per ticket. Entry includes six courses and three drink tickets, and a program as engaging as it is brief.
Table pricing available by contacting Gerod Rody at gerod@out4s.org.